Coming up with a "best of" list for Memphis is hard, because we know how many unique and incredible things to do and see there are. Plus, if you ask 100 different locals to list their "best of" lists, you'd likely get 100 different answers.
Everyone has their favorites, but we like to consider ourselves experts, so we sifted through all the lists out there and compiled our own list of the most noteworthy inclusions!
Memphis is a vibrant city, full of culture and full of spirit. It's an incredible mixture of small city charm with big city activities. This is what helps make Memphis such an amazing destination to live in and to visit. So whether you're here for the first time on business, you just moved in from across the country, or you've called Memphis home for years, there's always something new to do.
Without further ado, here are a few suggestions to point you in the right direction for the best experiences in Memphis:
1. Best Place for the Blues
Memphis is the home of the blues, beloved for bringing the world people like W.C. Handy, B.B. King, and Big Walter Horton. People from across the country make the pilgrimage to hear today's best blues musicians and sit around the historic stages where the legends got their start.
For the best blues clubs in Memphis, we turn to Foursquare—a list for the people, by the people. While this list doesn't include all of the places to hear the blues, it's a pretty good start.
2. Best Barbecue
With more than 100 barbecue joints serving up the world's best dry rub ribs, it's almost impossible to pick the best barbecue in Memphis.
Everyone wants to know where they should go to get the best (in fact, the best Memphis BBQ list is one of the most sought-after guides online).
For this round up, we turn to Thrillist, which specializes in giving a spotlight to the under-recognized BBQ gems in Memphis – you won't be disappointed!
3. Best Craft Beer Bars
The carefully curated tap list. The opportunities to tickle your taste buds with local flavors and regional favorites. The knowledgeable staff, proper pours, and all things beer culture – indeed, Memphis has a vibrant craft beer scene.
There's nothing quite like finding a quality craft beer bar in a city you're visiting or in your own backyard.  We've got a whole batch for you to consider, and The Commercial Appeal has been kind enough to identify five of the best.
4. Best Things To Do
Memphis has sites of historic and national importance that everyone should see, including the National Civil Rights Museum at the Lorraine Motel, Elvis' Graceland, Sun Studios, and Stax. And we can't forget about Beale Street, the Memphis Zoo, the Grizzlies, and that's not to mention the art scene and festivals – the list goes on and on.
With a nod toward the affordable, U.S. News & World Report put together a list of the 10 best things to do in Memphis, which offers something for every type of person and budget.
5. Best Outdoor Activities
To truly appreciate all that Memphis has to offer, you need to get outside and experience the splendor of the South. We're a surprisingly walkable city, and we have outdoor experiences to get you moving in every neighborhood.
The Memphis Zoo is ranked as one of the top zoos in the country. Shelby Farms has 4,500 acres of land and is home to treetop adventures, horseback riding, and running trails. There are rivers and lakes to kayak and paddle board on, free yoga in parks across the city, biking, hiking, fishing, and more.
How do you find the best opportunities for outdoor activities in Memphis? You ask the people, which is exactly what TripAdvisor did.
6. Best of What the Locals Love
If you truly want to experience a city, you've got to eat where the locals eat, meet where they meet, and get off the beaten track to head to attractions and events you may not have heard much about. Fortunately, Memphis is the best place to do this, and our friendly locals are quick to share their favorite spots with you. Who knows, they may end up offering to show you around themselves!
The good people at the Memphis Flyer polled locals on their favorite bands, venues, food, drink, theatres, museums, books, and everything in between.
The list is a great place to start for anyone who wants to truly experience and appreciate everything Bluff City has to offer.
7. Best Reasons to Stay
Not everyone who visits Memphis leaves. After you've had a taste of the food and fun, you might just decide to stay, and we won't blame you.
Some stay because they fall in love with the neighborhoods, the music, food, and ease of life here. Some stay for the education and employment opportunities.
The reasons to stay are endless, and Livability.com offers a list of some of the most common.
8. On the move!
With more than 160 parks and 80 playgrounds, there is more than enough space to spend time with your kids or go for long walks. If you want organized sports, more than 113 baseball diamonds and 34 football/soccer fields are within the city limits. If you want to play, we have the places to go, so get on the move and have fun!
9. Down by the river
At Mud Island River Park, you can take a close look at the Mississippi River. The local River Walk has been turned into a replica of the great river, which starts in Cairo, Illinois, and runs more than 1,000 miles to New Orleans. You can walk the entire Mississippi River in just over a half-mile. Spend the day exploring the park with the family and get to know the history of the Mississippi River.
10. Memphis

 stands for music

If you like music, you will love Memphis. Muddy Waters, Johnny Cash, Aretha Franklin, Jerry Lee Lewis and Elvis Presley all made their way through Memphis on their way to superstardom. Take a walk down Beale Street and visit the many pubs and clubs scattered throughout the area.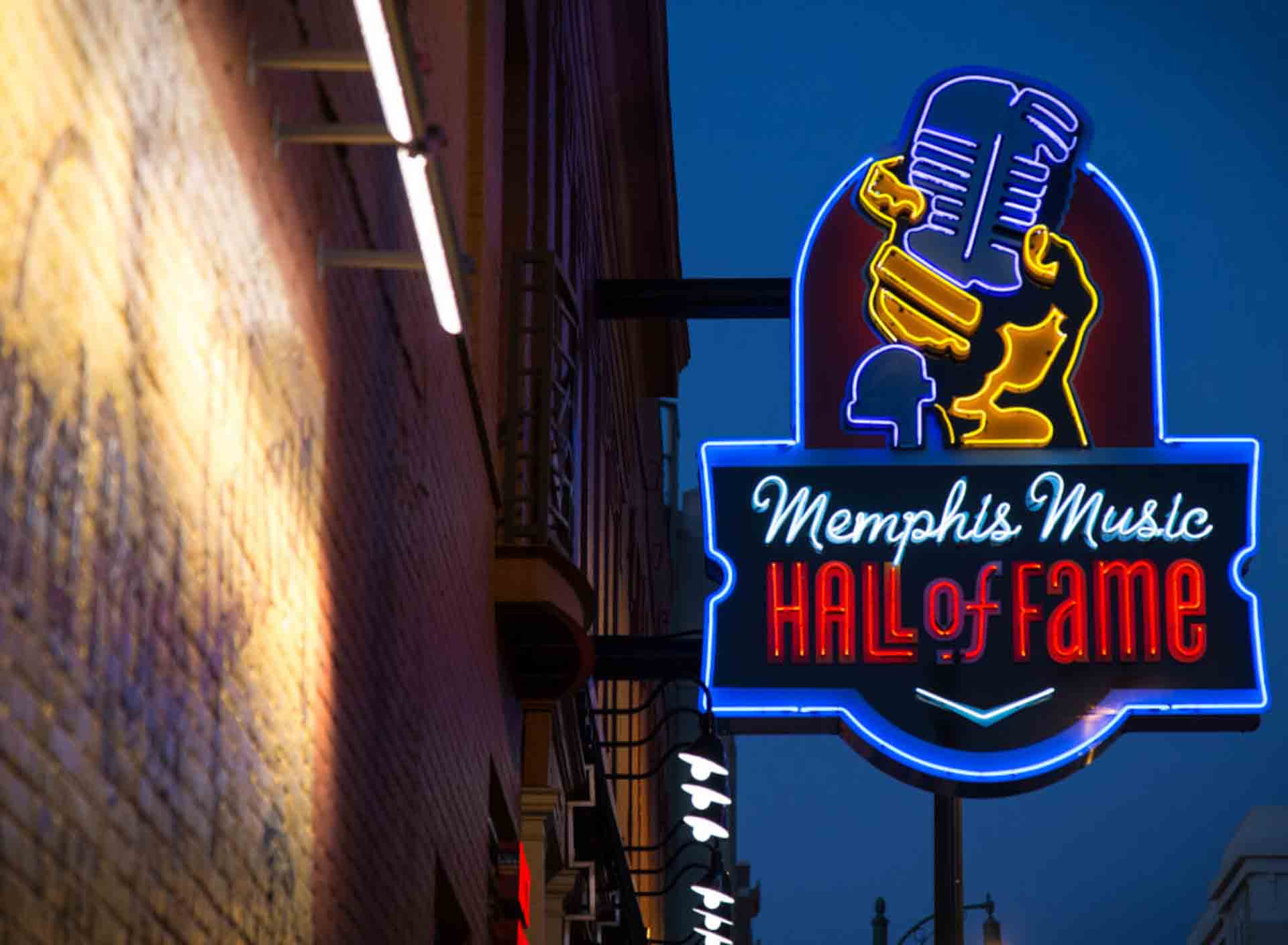 11. The best places for art
Whether you're a lover of art galleries or public shows for up-and-coming artists or you just like to check out art installations and outdoor displays, there's so much for you to explore and discover in Memphis. If you wanted, you could walk the city for days just to take in all the incredible murals, statues and other artistic projects. Thankfully, you don't need to do that. With our list, we have our selection for the very best places for art, whether it is inside or out.
12. The best music venues
In a city like Memphis, you know there's going to be live music going on. A number of bars have live music going on every day of the week. Other locations play host to traveling acts and well-known performers. So whether you're looking for an accustic set to enjoy a cold beverage with or you want a performance that gets you jumping for hours on end, there's something for everyone in Memphis.
At We Are Memphis, music truly is a passion. It's impossible to call Memphis home without loving music, because every kind of music is covered. These just happen to be some of our very favorite music destinations in the city.
13. Your type of neighborhood
Memphis is made up of over 100 neighborhoods. Each is distinct and has its own unique personality. Choose your passion and follow your heart. Your new home and neighborhood await. All you have to do is choose the right house and move in!
14. The best museums
Memphis is home to some of the very best museums in not only the state but the country. With so many important events to have taken place in Memphis, not to mention its being the birthplace of music and food styles, you'd be amazed at the sheer number of museums to experience.
The National Civil Rights Museum at the Lorraine Motel is as insightful as it is sobering. This is the site of Dr. Martin Luther King, Jr.'s assassination. While there is history regarding the Reverend himself, there are even more insights into the Civil Rights movement.
Other top museums include the Belz Museum of Asian & Judaic Art, the Stax Museum of American Soul Music, the Dixon Gallery & Gardens, the Metal Museum, the Memphis Rock 'n' Soul Museum, and so much more.
15. The best tours to discover your city
City tours offer great insight into any city you might visit. However, that doesn't mean you can't take a city tour in the city where you live. With so much history bleeding from every brick and street corner, you owe it to yourself to take in the city tours of Memphis.
The Memphis City Tour with optional Graceland Admission is a three-hour tour and the highest-rated tour on Trip Advisor (with nearly 500 reviews). Other popular tours include the Memphis Mojo Tour, the Memphis Discovery Tour (including Rock and Soul Museum entry), the Historic Memphis Walking Tour, the African American History Tour of Memphis, and the Walking Ghost Tour in Memphis.
16. Best religious sights and architecture
If you're a lover of religious architecture, there is plenty for you to see here. There are also historic churches and tabernacles that are must-sees for history lovers. The Full Gospel Tabernacle is called home by Reverend Al Green. You may also want to take in St. Mary's Catholic Church, the historic Mason Temple, and the First Baptist Beale Street Church.
17. Best public elementary schools in Memphis
If you're looking to call Memphis home and you either have children or would like to have children in the future, you'll likely want to know the best school districts. This may make finding the right neighborhood easier. The team at Niche helped compile a list of the best public elementary schools using extensive analytical data.
According to Niche, the top elementary schools that received the highest "A" grade include Center Hill Elementary School, Hernando Hills Elementary School and Pleasant Hill Elementary School.
Of course, your child won't remain in elementary school forever. So, if you're interested in the best overall school district in greater Memphis, Niche also has ratings for these. The top three school districts, based on parental data and information provided by the U.S. Department of Education, are the Germantown School District, Collierville Schools and the DeSoto County School District.
When you live in the right school district, you'll always find plenty of fun things to do in Memphis that are directly connected with the school.
18. Best colleges and universities in Memphis
Christian Brothers University is rated as the top institution for higher education in the city. It is a private university that has a very small enrollment (under 2,000). This helps keep classes smaller and personal.
LeMoyne-Owen College in Memphis is another of the locations that made it onto the U.S. News and World Report list. It is a private institution, yet the tuition is more in line to what you would pay with a state school. Plus, with an enrollment of under 1,000 students, classes are small, which is excellent when you're looking for a more direct connection with professors.
Rhodes College is ranked as the 51st best National Liberal Arts College in the country. The historical setting of the college and the breathtaking architecture of the school are exceptional. If you're interested in a liberal arts college, make sure to consider Rhodes College.
When you want the larger university experience, you should consider the University of Memphis. Known locally as "U of M," this university offers a significant discount for in-state students and has an annual enrollment of over 17,000 students.
Whatever you decide to do with college and your time post-high school, make sure to visit the institution, look over the classes and get a feel for the campus. When the school is a good fit, you'll feel right at home.
The best of Memphis is up to you
These are just a few suggestions of what makes Memphis such an incredible city. Truth be told, choosing the very best of Memphis is up to you. These are some of our personal favorites (and the favorites of visitors and locals alike), but as the city is rich in history and culture, it's impossible to dig into every location, monument, tour and event in just one article. So feel free to explore and dive deep into the city. Sometimes what makes the city the best on a personal level is discovering the holes in the wall and the less-talked-about destinations. That's because these local spots offer more intimate connections, and you'll be able to make them your own.
Whatever you do, you owe it to yourself to get out and explore the incredible city of Memphis. There's always plenty to see and do.
At We Are Memphis our passion is our city. We encourage visitors to take a close look around and discover the best of Memphis while they are here. Who knows? You may just find out you've been a Memphian all along. Now it's time to find your way back home to the city on the river!
Looking for even more? We Are Memphis has you covered.
Want more stories on what makes Memphis great?
Follow our Instagram page below!
You might also be interested in: What is Memphis Known For… Find out